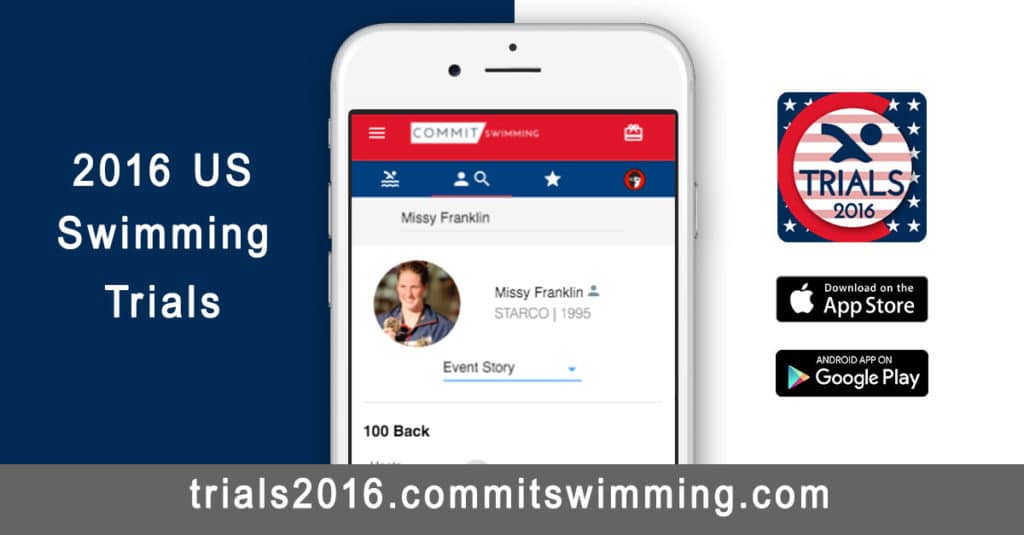 Commit Swimming just developed a live results site for Olympic Trials! Check out trials2016.commitswimming.com to play around with the 2012 results. The site and app will update with 2016 data as soon as trials starts this Sunday, June 26th.
Commit's 2016 US Trials app is the best way to follow the meet online and the only way to get heat sheets and live results on your phone.
With a sold out crowd at CenturyLink Center Omaha and everyone watching to see who will represent the U.S. in Rio, there's no question this 8-day meet is one of the most exciting swim meets to follow. To get heat sheets, live results, and more, visit the trials site or get the iOS or Android application.
Commit's application also contains exclusive promotions! Go to trials2016.commitswimming.com and click on the gift card icon in the top right to claim your code.
---
FEATURES
View heat sheets and results
Search athletes and get profiles
Track Olympic Team qualifiers
See broken records
Analyze splits for every race
Receive big discounts from top brands
Access SwimSwam news
Print or download original PDFs
Reference 2012 US Trials results
MOBILE APP
or visit
trials2016.commitswimming.com
NOTE
Results come from Omega Timing PDFs, which only receives results after the full event is over. Therefore, our site updates at the conclusion of each event, not the conclusion of each heat.