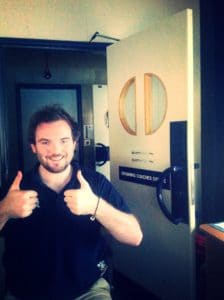 Jak is in his 4th year as assistant coach at Millfield, working with the Junior and Senior National athletes after learning his trade in Gloucester City and Swansea Performance training centre as both a swimmer and coach, working with the elite coaches and athletes in the performance programs there for several years.
The invaluable experience of working with high level swimmers and coaches has only served to increase a desire to learn and develop himself and the swimmers around him.
Jak brings a distinctive brand of energy and drive to coaching which he aims to infuse into all of his swimmers and a determination to be on the cutting edge of technical analysis.
Away from swimming, Jak completed an undergraduate degree in Classics in Birmingham, which he then furthered with a Masters in Ancient Literature in Swansea. He is also a musician in his spare time and is a massive fan of American football.
This short bio was provided by Coach Jak. You can read a complete bio and find out more about Coach Jak on the Millfield Swimming website.
---
Support Coach Jak with a premium membership. Use the coupon "Millfield" during your registration and you will also get 20% off any subscription plan.