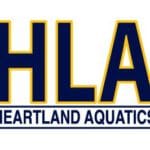 Website HC_HLA Heartland Aquatics
Heartland Aquatics is a non-profit, year-round, competitive swim team.
Heartland Aquatics (HLA) is a parent-board run, 501c3 non-profit swim club in Lincoln, Nebraska, and is seeking a strong, energetic and dynamic leader to serve as Assistant Head Coach for our growing USA swim team. HLA's current membership is comprised of just over 100 year-round athletes, spanning all competitive levels from novice to Junior National and Olympic Trial qualifiers. HLA's Mission is to develop swimmers to their fullest capabilities and, in the process, teach life balance, citizenship, and dedication to the rewarding sport of competitive swimming.
Candidates must be enthusiastic about the sport of swimming, working with children of all ages (6-18) and ability levels (novice to advanced). Candidates must be available to coach 4-5 nights per week (minimum of 20+ hours/week), meet weekends (2-3 per month, depending on time of the season), and able to take on other administrative duties and required staff meetings as they arise.
As the Assistant Head coach, this individual will be the lead coach for one age group level practice group, will assist in all other age group practice groups and senior level practice groups, and will assist the Head Coach in all team management responsibilities. This position is responsible for working in conjunction with the Head Coach to construct season plans for our age group program, both in water and dry-land. As a lead age group coach, this position is also responsible for monitoring progress of the age group program, communicating important information to age group families, providing content for the team's newsletter, maintaining the social media accounts and providing monthly coach reports for the Board of Directors.
Required Qualifications:
3+ years of previous coaching experience, including season planning and practice writing
Previous competitive swimming background at the HS level or above
Fulfill all USA Swimming Coach Requirements prior to employment
Knowledge of current swimming techniques & swimming news
Preferred Qualifications:
Bachelor's Degree in exercise science related field
Collegiate swimming experience or at the USA Swimming Junior National level
5+ years of previous coaching experience, including season planning and practice writing
Experience with Hy-Tek meet manager software
Experience with TeamUnify website platform
Basic video editing skills
Primary Responsibilities:
Help oversee a growing program with 100+ swimmers from the novice-national level.
Primary coach for one age group practice group.
Manage assistant coaches in age group program, and support head coach with senior program.
Capture and analyze video to maximize practice experience for athletes.
Attend all team hosted meets, fundraising events, team functions, and promote club brand
Other duties as assigned by head coach
Salary & Benefits:
Commensurate with experience. Heartland Aquatics covers required continuing education costs, reimburses for travel to meets outside Lincoln and required USA Swimming certifications.
Application:
Interested parties must provide cover letter, coaching related resume and 3 professional references. Review of candidates will begin immediately. All supporting documents must be received via email.