Club Wolverine Elite is a high performance swim team that trains swimmers for one reason: to compete at the Olympics. Winning an Olympic medal doesn't just happen on its own. Club Wolverine Elite is a 501(c)3 nonprofit and is only able to create life-changing experiences with the help of dedicated athletes, staff and generous donors.

They do not limit this goal to U.S. athletes and welcome all of the world's best national and international swimmers. Club Wolverine Elite seeks to improve each team member through education, creativity and discipline.
---
Thanks to our growing community supporting PSW with a premium membership, we were able to help the athletes of CW Elite with a Bronze donation of $100 and help pay for a hotel fee at an upcoming meet.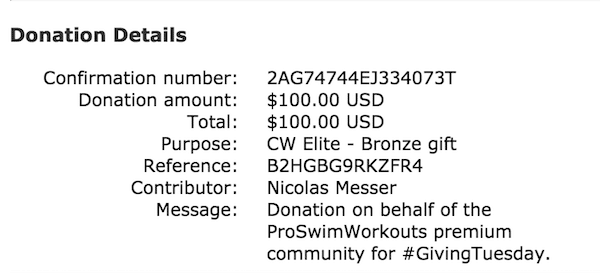 Club Wolverine is a 501(c)3 nonprofit corporation registered in the State of Michigan. The club is affiliated with Michigan Swimming, Inc., and USA Swimming, the governing body for amateur swimming in the United States.
It is the intention of Club Wolverine that any funds raised will be expended and/or distributed consistent with the original intent and wishes of the donor. However, notwithstanding the foregoing, Club Wolverine reserves the right to use and/or distribute the funds raised in whatever manner it deems appropriate, if, after reasonable review, Club Wolverine determines in its sole discretion that such funds are needed and/or would be better utilized in others ways in furtherance of Club Wolverine's mission.