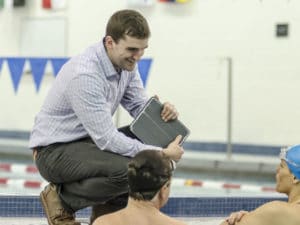 Chris DeSantis is a personalized swimming consultant. He offers mental skills training, one-on-one technical advice and personalized workouts. In each area, he brings the best of his own experience to improve your coaching.
There's a lot more to excellence than how you move in a pool. Your mindset determines how much you get out of practice and competition.
Chris DeSantis Coaching is based on the fundamental that there is always a better way.
Chris DeSantis has a Masters in Applied Positive Psychology from the University of Pennsylvania – the scientific study of human excellence and flourishing. You will get cutting edge, research-backed knowledge to optimize performance and improve your training process no matter what practices are like.
Serious coaches know that technical skills makes all the difference. Chris DeSantis has coached at the Division 1 (Penn and Georgia Tech), NCAA level. His swimmers have qualified for European, World Championship and Olympic competition. He has served on Denmark's national and junior national team coaching staff. Chris' technical specialty is the start, and in he spent the 2015-2016 season coaching only starts with National team swimmers on Farum Swimming Club. Swimmers there were on average able to improve their 15m times by .5 seconds. He also trained their coaches all the way down to the beginning level in the fundamentals of coaching a start.
Race pace training is at the forefront of modern swimming. There are a lot of imposters out there, but Chris DeSantis has spent years reading and applying the research behind it. You can get personalized workouts as well as workout planning that deliver incredibly efficient results. You can get improvement with less time in the water and a better life out of it, keep the sport fun for kids, or take high level performance even higher.
This bio was provided by Coach Chris. You can find out more about him and his coaching services on the DeSantis Coaching website.
---
Support Coach Chris with a premium membership. Use the coupon "CRDESANTIS" during your registration and you will also get 20% off any subscription plan.