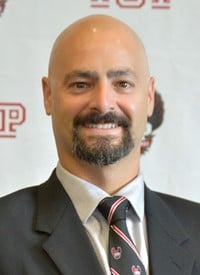 Chris Villa finished his eighth season as Head Coach at IUP with another record setting year and was named the PSAC Coach of the Year. Throughout his eight years with the program, the Crimson Hawks have rewritten the school record board, setting 78 new marks.
The IUP women had three individual champions and five second place finishes at the 2013-14 PSAC Championships. The Crimson Hawks finished the season with a 16th place finish at the NCAA Championships, including nine All-American honors and five new school records. The IUP men's team finished in third at the 2013-14 PSAC Championships.
In all, the men broke six school records and two pool records this past season. The swim team also excels in the classroom, consistently placing athletes on the dean's list and achieving 4.0 GPAs.
Villa came to IUP after spending the previous three seasons as the women's assistant coach at the United States Naval Academy. He helped coach the Navy women to top three finishes at the Patriot League championships all three seasons as well as producing two conference MVPs. He coached two swimmers who met the Division I provisional time standards.
Villa began his career as an assistant coach at Hartwick College during the 1999-00 season. Villa has swimming experience outside of his coaching positions, including serving as meet director of the Speedo Champions Series in Annapolis, Md. Villa was commissioned as a Lieutenant Junior Grade and Human Resource Officer at the Naval Academy based on his prior professional experience in the coaching industry.
This bio was taken from the IUP Crimson Hawks website. You can read the full bio and find out more about Coach Villa on his IUP profile and follow the team on Twitter @iupswimming.
---
Support Coach Villa with a premium membership. Use the coupon " CrimsonHawks" during your registration and you will also get 20% off any subscription plan.