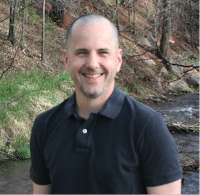 Dave Burgess is a USA Triathlon Level 2 and ASCA Level 3 certified Coach. Dave is also a US Masters Swimming Level 3 certified Coach. He has been involved in the triathlon and endurance sports community since 2000 and began full-time coaching in 2009. Dave also has a certificate in Sports and Performance Nutrition. Dave is a regular webinar presenter for USA Triathlon, and is also an instructor at US Masters Swimming coaching clinics.
As the founder and head coach of Podium Training Systems, Dave works with athletes of all levels – from first time competitors to elite level triathletes – competing in all race distances. Dave is also the founder and head coach of the Podium Swim club in Colorado Springs, where triathletes and swimmers alike can progress towards maximum performance via technique, mechanics, and performance-based training.
Dave comes from strong swimming background, competing as a youth through collegiate level competition. Originally from the Midwest, and after spending time in Chicago and New York, he and his wife now reside in Colorado Springs.
Follow Coach Burgess on Twitter at @Podium_Training or on Facebook.
---
Support Coach Burgess with a premium membership. Use the coupon "Podium" during your registration and you will also get 20% off any subscription plan.