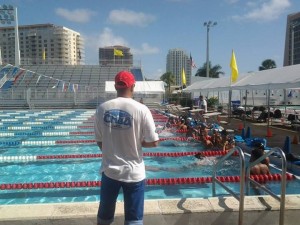 Hatem is one of the most experienced coaches in Tunisia. He has coached for 17 years at all levels of competitive swimming. Hatem has been successful in developing some of the top Tunisian age group swimmers. His swimmers have consistently ranked in the top 3 each year in the Tunisian National Age Group rankings and he has had many swimmers ranked #1.

His swimmers have also set numerous Arabic, North African and National Age Group Records. He has the best Arabic age group swimmer Zaoui Farouk. Hatem also held the position as Head Coach of Al Ain swim team in UAE for 7 years and during this time he was awarded Age group Coach of the Year in 2008-2009.
Coach Hatem brings a tremendous amount of dedication and commitment to his swimmers and has the reputation for getting results.
Support Coach Dinis
Choose a premium membership and benefit from 20% off any subscription (individual or team) by using the coupon code "cnba" during registration.