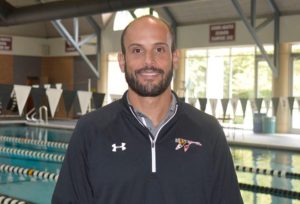 Mark Hill, who helped guide the University of Michigan men's program to an NCAA D1 National Championship, has been hired as the head men's and women's swimming coach at Washington College. Hill previously served as an assistant coach the Shoremen & Shorewomen early in his career from August 2005 to May 2007 under then head coach Kim Lessard. Hill's time at Washington College helped kickstart a long and highly-successful tenure as a Division I assistant coach. He arrived at the University of Michigan as a volunteer assistant coach for the Wolverines' men's team in August 2009 and served in that role through the end of the 2011-12 season.
He then became a full-time assistant coach and the head recruiter for both the Michigan men's and women's teams for four seasons. In addition to helping guide the men's team to the 2013 NCAA Division I National Championship, Hill also won six consecutive Big Ten Men's Swimming Championships (2011-2016) and the 2016 Big Ten Women's Swimming Championship while an assistant coach at Michigan. The Wolverine men also finished third in Division I in 2015 and fourth in 2014. Hill helped coach Michigan swimmers to program records in 13 events, including the 2013 national championship-winning men's 200-yard medley relay team.

Hill later served as an assistant coach and head recruiter for the Indiana University men's and women's swimming teams during the 2017-18 academic year, working with the mid-stroke and sprint groups. He helped guide the Hoosiers' men's program to the 2018 Big Ten Championship and a third-place finish at the NCAA Division I Championships and the women's program to a second-place Big Ten Championships finish and an eighth-place NCAA Division I Championships finish. In Hill's one season at Indiana, Hoosier swimmers broke 20 school records, four of them in American-record times.

Hill also has a lengthy coaching history in youth and high-level international swimming. He most recently served as a head age group coach for Loyola Blakefield Aquatics Club in Towson, Md. Between his stops at Michigan and Indiana, he spent one year as a head age group coach at Old Dominion Aquatic Club in Virginia Beach, Va. While at Michigan, he also served an assistant coach for Club Wolverine Elite Team, which hosted Olympic swimmers from around the world as they prepared for the 2012 and 2016 Olympic Games. Hill helped place 10 swimmers on their respective 2016 Olympic teams. Hill coached George Bovell (Trinidad & Tobago) to a seventh-place finish in the 50-meter freestyle at the 2012 Olympics and to a Bronze medal in the same event at the 2013 World Championships.

After his time as an assistant coach at Washington College, Hill spent two years as an assistant coach for The Race Club, a high performance elite team based in Islamorada, Fla. During that time, he also worked as the head USS Age Group Coach in Key Largo and as the head coach at Coral Shores High School. He had earlier served as an assistant junior coach for the 2005 Maccabi Games in Israel.

Hill swam collegiately at the University of Maryland, earning All-Atlantic Coast Conference (ACC) honors three times and winning five ACC Championship medals. He served as a team captain his senior season, was a two-time Team MVP, and was a four-time school-record holder. He was presented with the William R. Campbell Senior Award following his 2003-04 season. After completing his eligibility, he served as an undergraduate assistant coach for Maryland's women's swimming team, helping that team win the 2005 ACC Championship.

Hill, 37, earned a Bachelor of Arts in English from Maryland in 2006. He holds an American Swimming Coaches Association (ASCA) Level 5 NCAA certification. Hill takes over the reigns of a program that produced 26 All-America performances between 1990 and 2011. He has his sights set on bringing Washington College swimmers back to the NCAA Division III Championships.
Recent Workouts by Coach Hill
Support Coach Hill
Choose a premium membership and benefit from 20% off any subscription (individual or team) by using the coupon code "markhillswim" during registration.