Our friends from Florida Swim Network hope to do extensive coverage of the 2016 Rio Olympic Games, beginning with the US Olympic Trials in Omaha and then traveling to Rio.
They will be reporting on all swimmers who train in the state of Florida, including not only the US athletes but also the international athletes who train there competing for their home countries. Our friends plan to set up an "FSN Hub" where the athletes and coaches from Florida can stop by for interviews, video chats with their teams back home, photos and more.
Much of what they do is still self-funded, so we are delighted to help them get to Rio to shine a spotlight on #TeamFlorida! To find out how you can help, please go to their GoFundMe page at https://www.gofundme.com/SendFSNtoRIO
---
We want to thank our premium members who make all this possible with their support of PSW. We were able to make a $100 donation on their Road to Rio.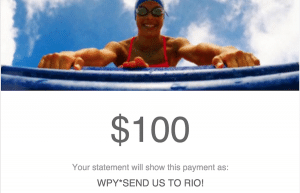 ---
We are also proud to support our friends at FSN with their efforts of streaming swimming meets online through their platform. You can find out more about on our Meet Starter post.