When I heard about Jason Lezak's Sprint Free DVD, I had to get a copy for myself but also to review it for ProSwimWorkouts. There's something about Jason, other than the fact that he probably had the most amazing relay swim in Olympic history, making you want to know how he did stay as fit and strong over the years.
Some of you might remember or had seen the article about "Weight Training for Sprint Swimmers" featuring Jason Lezak in 2005. Although some of the things are similar to what's shown in the DVD, to me there are some differences – the focus of that article from 2005 seems to be more on actually lifting weights, whereas in the DVD the focus seems more on creating "the burn" you'll experience in your races (even without using any added weight or resistance as is the case in the DVD for many of the leg exercises).
So what is this DVD all about? Below is what Jason wrote about it.
There are so many ways to train in and out of the pool that can be successful. This way has worked for me for many years and every other elite swimmer that has done this with me has seen great improvements as well. In this video you will learn how to lift for power, speed, and endurance which are important no matter what your race is. Another key is learning to push through lactate which is the reason most people slow down at the end of a race. In shorter races like the 100's and 200's you will build much higher lactate levels than in longer races. […] It takes practice doing this time and time again in your strength training routine as well as in the water. If you are looking to try something new I know you will see benefits from this routine which will translate to faster times.

– by Jason Lezak
Sprint Free DVD Review
In my opinion, Jason makes the most important point right in the beginning. The DVD shows what worked for him – something he created and perfected with his personal trainer over his years in swimming. The different exercises and routines are well explained and do work mostly swimming specific muscle groups (although this could be a topic for a post itself). I don't think there are any risks involved, if you decide to get this DVD and use part or all of it for your gym work to support your swimming, as long as you're familiar to lifting weights or have an instructor at your gym help you get set up.
I like the approach to weight training – you shouldn't spend endless hours in the gym and you want to be able to transform as much of the gained strength as possible into the pool.
Is it going to work as mentioned for any swimmer, competing in any of the events? I wouldn't completely disagree but would also like to repeat that any strength training you do should complement your swim training. Strength training will help you improve but not replace the actual work done in the pool. Now, this routine by Jason Lezak will most certainly help you become a stronger athlete and help you improve no matter what event(s) you swim. But I also think there's a reason why we never saw Jason (seriously) race anything over a 100 freestyle. So the things shown on this DVD might be more suitable for athletes competing in the sprint and mid-distance events.
I did enjoy watching the DVD and will have to watch it a few more times before I'll be able to incorporate some of the things that I think could be beneficial for my own athletes. A lot of the things, especially for the legs, can be done on the pool deck (or anywhere else outside of a gym) and I will most likely take some of the exercises and add them to our dryland routines.
Hopefully, this was helpful to you, if you're thinking about buying a copy of the Sprint Free DVD. If there's something you would like to have more details on, please post your questions in the comments and I will try to answer them. And don't forget to enter the giveaway below!
Note: I do not have the necessary knowledge to make a thorough review of the concepts presented in the DVD. So look at it as a personal opinion piece of someone involved in the sport of swimming and trying to learn and understand more about weight training.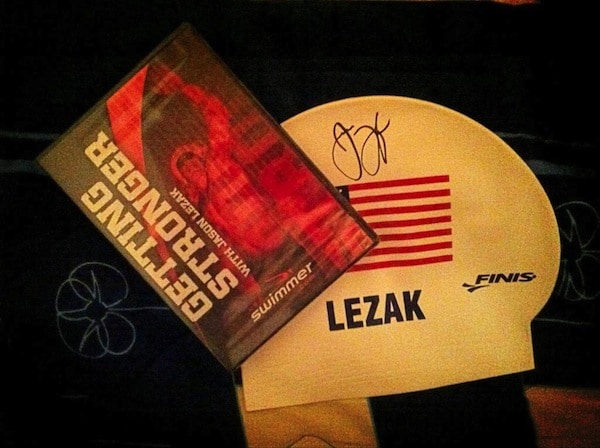 ---
Sprint Free DVD Giveaway
Duke Smith was the lucky winner of the DVD and the signed USA swim cap by Jason Lezak.