Jemma Lowe's passion for swimming started at a very early age with her sister.
Only just out of nappies, her parents introduced them to water so as to learn the life skill of swimming confidently, at an early age. Jemma seemed to excel in the water and joined Hartlepool swimming club when she was 8 years old…ten years later, she became an Olympian at the age of 18.
Since then, she has looked at ways to continually improve and moved to the national centre in Bath, where she re-joined her previous coach who she was with from 2001-2008.
At the ripe old age of 25, I`m now on a mission to represent Great Britain,
at, what will be, my 3rd Olympic Games, in Rio 2016.
10 year journey to Jemma's first Olympics:
At the age of 17 in 2008, I won the British Championships for the first time, and qualified for the Olympics.
Moving clubs & coaches looking for continual improvements.
Training 30 hours a week on land & water, starting at 5am daily.
Jemma's most recent highlight was breaking the World Record in the Mixed Medley Relay, along with qualifying for her 4th World Championships in Kazan.
If you are interested in her journey and are able to support her `Final Mission' campaign, please join us in helping her on the Road to Rio at PledgeSports.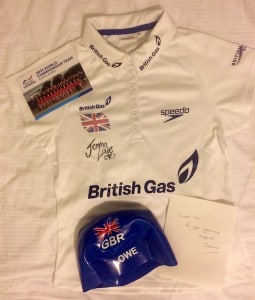 ---
ProSwimWorkouts was able to make a £75 donation. Thanks to all of our premium members who make this possible!
---
Signed Swimming Cap and T-Shirt Giveaway
Tom Wunderlich won a signed swimming cap and t-shirt (female size medium) by Jemma Lowe of Team GB from this past World Championship in Kazan.