Nica Nadadores is a swim team, youth development and empowerment program, community service vehicle, and scholarship initiative. They do more than just teach kids how to swim.
They run daily swim practices, conduct monthly community service activities, mentor on life skills and leadership, and provide academic financial assistance to children who show commitment to Nica Nadadores' values. Their goal is to help their student-athletes reach their full potential by showing them that their progress and success in the pool is transferable to the classroom and to the rest of their lives.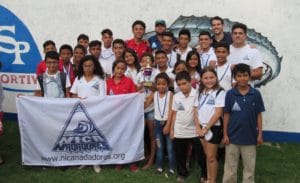 "They empower their kids to dream big and achieve their goals in all areas of life."
According to the Human Development Index, Nicaragua is the second poorest country in the Western Hemisphere. Nica Nadadores serves Chiquilistagua, a community in southwest Managua about thirty minutes from the city's center. Children in Chiquilistagua often suffer from improper nourishment, insufficient water sources, and poor access to basic infrastructure. A community survey of over 200 community members indicated that 93% of residents cannot swim in water deeper than their heads.
To find out more or make a donation, please visit http://www.nicanadadores.org/
Watch the video below to learn more about the Nica Nadadores and their mission.

---
ProSwimWorkouts was able to make a $100 donation in November 2016.
Thanks to all of our premium members who make this possible!