Fran Crippen was a loyal ambassador of sport, fair play, and humanitarian goodwill. After being a pool swimmer for most of his career, in 2006 Fran made the transition to open water swimming, where he had tremendous success. Fran died while swimming the last race of FINA's 2010 10K series in Fujairah, UAE, having won the penultimate race in Cancun, Mexico, the weekend before.
The Fran Crippen Elevation Foundation (FCEF) was developed by Fran's family and friends to continue Fran's legacy. The FCEF empowers athletes who exemplify the principles Fran embodied as they journey to elevate themselves, by providing aid for athletes as well as advocating for safe competitive environments.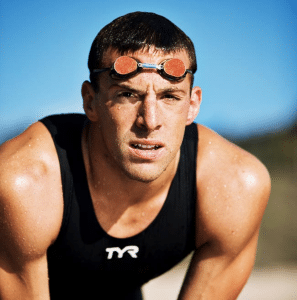 Fran believed that sport has the power to transcend barriers, both those between people and those within oneself. No dream was too big for Fran, and he believed that there was no barrier that could not be overcome, including one so often faced by elite swimmers striving to achieve their goals: funding.
In that spirit, the FCEF has established the Work the Dream Grants. This Grant is intended for men and women who are struggling to find sufficient financial support to help them pursue their dreams to the best of their abilities.
The above text was taken from the FCEF website. Please visit their website for complete information on the FCEF and how you can help to make Open Water swimming more secure.
The FCEF hopes to support athletes who embody Fran's dedication to all aspects of their sport. We are proud and thankful that today (Oct 23, 2012) we were able to make a donation towards the Work the Dream Grants on behalf of all the ProSwimWorkouts premium members. RIP Fran.

---
Update Oct 30, 2014: Support 20K in 20 Days
The Crippen Family and the Fran Crippen Elevation Foundation are trying to raise 20k in 20 days in order to establish a memorial scholarship at Germantown Academy.
"Over the last four years, the Fran Crippen Elevation Foundation has honored Fran's legacy by organically growing the mission of the organization. Initially, we created a grant to assist athletes who were aspiring Olympians. The next item on the foundation's agenda is to take our support to a grass roots level. We thought of no better place to start than Germantown Academy. In order to endow a scholarship in Fran's name for young swimmers, we must commitment $100,000 and we need your help." -Maddy Crippen
Thanks to our growing community supporting PSW with a premium membership, we were able to help with a $100 donation towards their goal to endow the scholarship at GA.
---
Update Oct 25, 2013: Donation for third anniversary of Fran's death
With the continued support of our premium members, we were able to make another donation to the FCEF to help empower athletes who exemplify the principles Fran embodied as they elevate themselves in pursuit of their dreams.