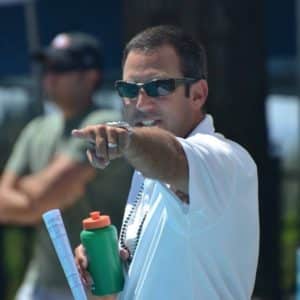 Coach Brad, a Level 4 certified coach with the American Swim Coaches Association, was previously the Head Coach of the Tigard Tualatin Swim Club in Oregon. While coaching with TTSC, he guided the team to unprecedented heights – developing age group record breakers, multiple Senior Sectional qualifiers, Futures qualifiers, and Junior National qualifiers, as well as a Junior National runner up and Olympic Trials qualifier. Prior to his time with TTSC, Coach Brad served as Aquatics Director and Head Coach for the HOX Swim Team at the Blackhawk Country Club in Danville, CA, the CEO and Head Coach of the Vacaville Swim team, and coached for the Sierra Marlins Swim Team in Folsom, California, where he served in multiple roles, including the Interim Head Coach, Varsity group coach, and Senior group assistant. He was honored as ASCA's Age Group Coach of the Year for Sierra Nevada in 2012, was selected as head coach for the USA Deaf Swimming world championship team in 2018 and was selected to coach at the USA Swimming National Select Camp staff in 2019.
Brad's coaching career began in 1994, when he started working with summer rec league swimmers for multiple teams in the Sacramento area. He earned a BA with honors in psychology from Occidental College in Los Angeles in 2003. From there, he went on to earn a master's degree in psychology from San Diego State University, where his thesis focused on sport psychology and the motivation of athletes. Before returning to California to coach the Marlins, Brad pursued post-graduate studies in sports psychology at Michigan State University and was the graduate assistant coach for the Ohio State University's men's swim team, while also studying sports management. Away from the pool, Coach Brad loves spending time with his family, is an avid reader and crossword puzzle enthusiast, and enjoys running and playing ultimate frisbee. Coach Brad is also a huge football fan and passionately supports his favorite team – the San Francisco 49ers!
Support Coach Brad
Choose a premium membership and benefit from 20% off any subscription (individual or team) by using the coupon code "pac" during registration.