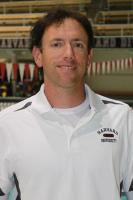 Chris Morgan brings over 20 years of coaching experience to the legendary Bernal's GATORS. Most recently, Morgan served as Head Coach of the YMCA of the North Shore and prior to that, was the Varsity Assistant Coach for the Harvard Women's Team. Morgan spent the 2011-12 as a member of the Stanford coaching staff, helping the Cardinal to a fourth-place finish at the NCAA Championships. Stanford won national titles in the 200 free relay and 400 free relay at the meet, and earned 33 All-America honors after taking second at the Pac-12 Championships.
A 1994 graduate of UC Davis with a degree in biological sciences, Morgan earned his Masters in human movement and sports sciences from the University of Geneva in 2002. While at UC Davis, Morgan was a conference champion in the 100 fly his junior season in 1992. Morgan began his coaching career as a volunteer assistant at Stanford under the late Richard Quick from 1994-98.
This short bio was taken from the Gator's website. You can read Coach Morgan's full bio on the Bernal's Gator website. Follow Chris on Twitter at @swim4chris.
---
Support Coach Chris with a premium membership. Use the coupon "Gators" during your registration and you will also get 20% off any subscription plan.