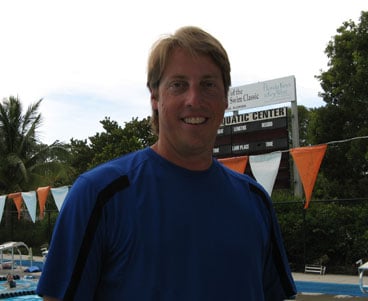 Jon Olsen is the Head Coach of the Florida Keys Swim Club, Coral Shores High School, and the Fighting Manatees Masters. A 1986 graduate of Jonesboro High, Jon has been coaching in the Keys for 10 years. Jon won five Golds and 1 Silver at the US Olympic Festival that year. At the 1989 Pan Pacific Games, Jon won 2 Golds and a Silver. At the 1992 Olympics, he won 3 Golds and a Bronze, swimming on all three relays, including freestyle leg of the record-setting 400m Medley Relay.
In 1993, 4 Golds were won at the Pan Pacific Games. Jon was selected US Swim Team Captain at the 1996 Olympics at Atlanta where he won 2 additional Golds on the 400m and 800m Freestyle Relays.
This short bio was taken from the Jacobs Aquatic Center website. You can find out more about Coach Olsen on the Florida Keys Swim Club Site. Follow Jon on Twitter at @JonOlsen2.
---
Support Coach Jon with a premium membership. Use the coupon "FKSC" during your registration and you will also get 20% off any subscription plan.