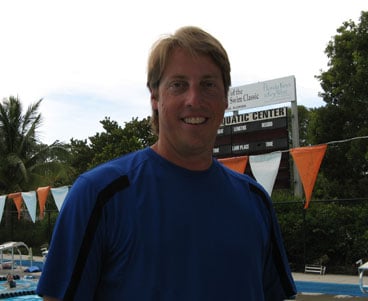 Jon Olsen is the Head Coach of the Florida Keys Swim Club, Coral Shores High School, and the Fighting Manatees Masters. A 1986 graduate of Jonesboro High, Jon has been coaching in the Keys for 10 years.

Jon won five Golds and 1 Silver at the US Olympic Festival that year. At the 1989 Pan Pacific Games, Jon won 2 Golds and a Silver. At the 1992 Olympics, he won 3 Golds and a Bronze, swimming on all three relays, including freestyle leg of the record-setting 400m Medley Relay. In 1993, 4 Golds were won at the Pan Pacific Games.

Jon was selected US Swim Team Captain at the 1996 Olympics at Atlanta where he won 2 additional Golds on the 400m and 800m Freestyle Relays.
Support Coach Jon
Choose a premium membership and benefit from 20% off any subscription (individual or team) by using the coupon code "fksc" during registration.