Sunday, October 29, 2017 at Mason Community Center
(6050 Mason-Montgomery Road. Mason, Ohio 45040)
Reach the next level of competition by learning from top swimmers and coaches.
Fine tune your strokes and learn high-level competitive techniques.
With special guest Olympic Gold medalist Breeja Larson
and other Olympians, Olympic Trialists, College & Club coaches and Guest Speakers.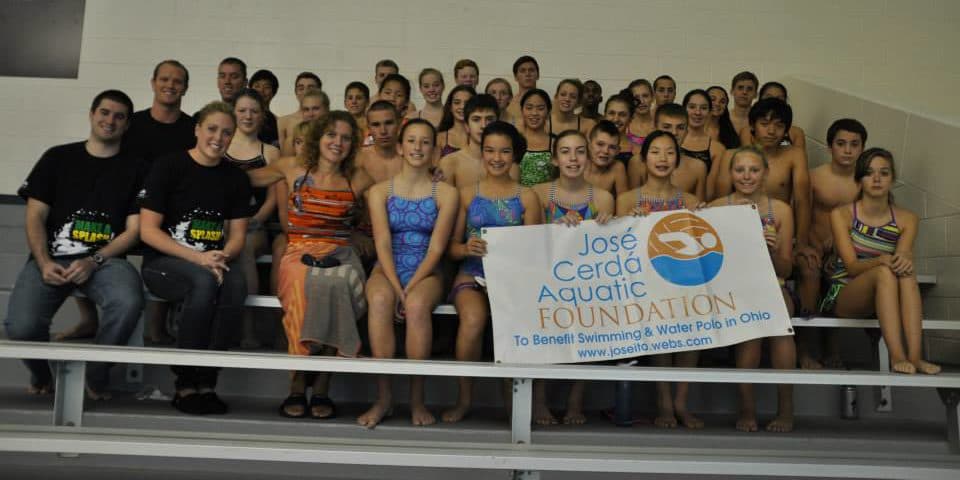 Pricing (through Sunday, October 21st, 2017):
6-8 years old – $40
9 & older – $50
Classroom session only – $25
All fees payable to Jose Cerda Aquatic Foundation and mailed to
P.O. Box 12918 Cincinnati, OH 45212 prior to Oct.15, 2014
Schedule
Sunday, 10/29/2017
Activity
Time
Classroom
Water
8:30-8:50am
Registration – swimmers up to 12 years old (water), 13 & older (talks)
9:00-10:00am
Sports Psychology
Swimmers (13 years & older)
Water Instruction – swimmers up to 12 years old.
Younger group 6-8 yrs. old – 1 hour only
10:00-11:00am
Nutrition Talk
Swimmers (13 years & older)
Water Instruction – swimmers up to 12 years old
Group: 9-12 yrs. old only.
Drills based on ability level: Developmental swimming vs. Club experience.
11:00-12:00pm
Lunch Break
11:30am-11:50am
Registration for swimmers 13 years and older (water)
12:00pm-1:30 pm
Q&A, Autographs, & Photos with Champions
(All swimmers, parents, & coaches)
None
1:30-2:00pm
Study of strokes, starts and turns
All swimmers
None
2:00-3:00pm
College Swimming and Recruiting
Q&A – Parents
Water Instruction – swimmers 13 years and older
3:00-4:00pm
None
 Water Instruction – swimmers 13 years and older
Why Pointe Zero One
This Clinic is in memory of the swimmer José Cerdá. José sadly missed his sectional time cut in 100 m backstroke by 0.01 seconds. This difference, the smallest measurable in swimming, had a huge impact on José. Rather than being disappointed by it, José became more dedicated to the sport to shave that one hundredth of a second from his time to qualify for the event; in essence achieve his goals.
José's point zero one story is more common in swimming than some may realize. Recently the US men's relay swim team was disqualified at the 2013 World Championship by 0.01 seconds. Olympian Scott Usher also shared his 'point zero one' moment at the 4th Annual JCAF Dinner Gala.
We would like this Clinic to inspire your 'point zero one' moment, because the smallest difference can have a BIG impact.
---
This Foundation, JCAF, has been established to honor José Cerdá by benefiting the sports he loved, swimming and water polo. For more information about JCAF, a 501 (c) 3 non-profit organization, please visit www.jcafoundation.org. José was constantly striving to move to the next level of athletic performance while also having fun and supporting his teammates and fellow competitors.