Reach the next level of competition by learning from top swimmers and coaches. Fine tune your strokes and learn high-level competitive techniques. The clinic will be held on Sunday, October 28, 2018 at Mason Community Center.
This year we're excited to welcome two special guests with USA Swimming National Team members Zane Grothe & Margo Geer, along our "regular volunteers" of college & club coaches and other guest speakers.
Pricing (through Sunday, October 21st, 2018):
6-8 years old: $40 – 9 & older: $50 – Classroom session only: $25
*Monday, October 22nd through walk-in registration – additional $10
All fees payable to Jose Cerda Aquatic Foundation and mailed to
P.O. Box 12918 Cincinnati, OH 45212 prior to Oct.15, 2014
< Online Registration – Clinic Flyer >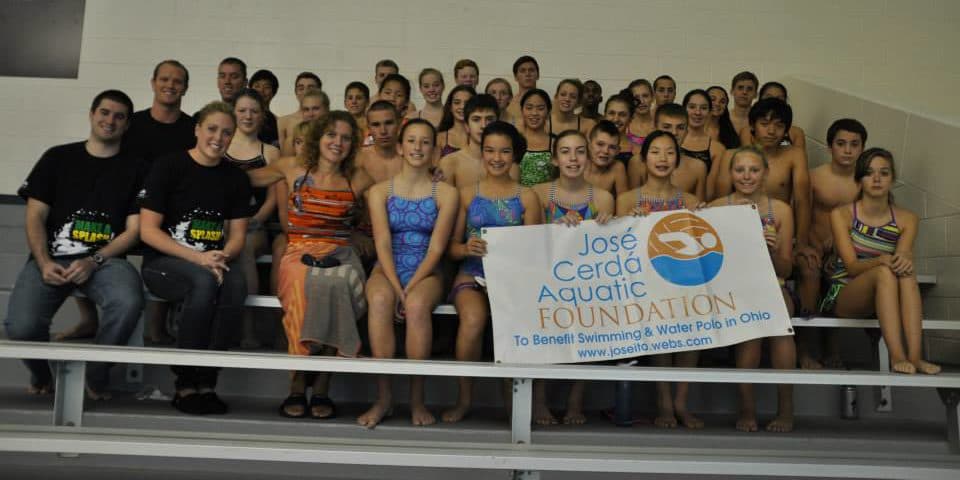 Schedule
Activity
Time
Classroom
Water
8:30-8:50am
Registration – swimmers up to 12 years old (water), 13 & older (talks)
9:00-10:00am
None
Water Instruction – drills based on ability level: developmental swimming vs. club experience.
(swimmers up to 12 years old only)
10:00-11:00am
Nutrition Talk for Swimmers (13 years & older) & Parents
Dawn Weatherwax, RD, CSSD, LD, ATC, CSCS (sn2g.com)
Water Instruction – continued.
(Younger group 6-8 yrs. old can do 1 hour only as appropriate)
11:00-11:40am
Lunch Break
11:20am-11:40am
Registration for swimmers 13 years and older (water)
11:40am-12:30pm
(W)In the Moment (all swimmers & parents). Putting in all the work, spending all the dollars and the time, then coming to that BIG meet. Now what? All the work can come to nothing if the space between an athletes ears isn't on track to (W)In the Moment. You have to be IN the Moment in order to (W)In the Moment. Learn some practical parts to your peak performance – for athletes and the parents who support them.

Jeff Raker, Level Up Leadership Coaching, Sherpa Certified Coach has been involved with the world of swimming for the past 49 years: as an athlete, coach, parent of swimmers, and now FINA Starter and Master's athlete.
12:30pm-12:40pm
CHARACTER
Meredith Griffin
Assistant Director of Competitive Aquatics
YMCA OF GREATER CINCINNATI
Powel Crosley, Jr. YMCA
12:40pm-1:00pm
Q&A, Autographs, & Photos with Champions
(All swimmers, parents, & coaches)
1:00-2:00pm
Study of strokes, starts and turns
(Session for all swimmers)
Jason Roberts
(Head Coach Countryside YMCA)
None
2:00-3:00pm
College Swimming and Recruiting Q&A
(Session for Parents)
Water Instruction
(swimmers 13 years and older)
3:00-4:00pm
None
Water Instruction – continued.
Why Point Zero One
This Swim Clinic is in memory of the swimmer José Cerdá, who passed away during a swim practice the day of his 18th birthday on October 26, 2010. Jose's 'Point Zero One' moment was the inspiration to create this swim clinic. José missed his sectional time cut in the 100 backstroke by 0.01 seconds. Rather than being disappointed, José became more dedicated to the sport to shave that one hundredth of a second from his time to qualify for the event. We would like this Clinic to inspire your 'point zero one' moment, because the smallest difference can have a BIG impact.
---
This Foundation, JCAF, has been established to honor José Cerdá by benefiting the sports he loved, swimming and water polo. For more information about JCAF, a 501 (c) 3 non-profit organization, please visit www.jcafoundation.org. José was constantly striving to move to the next level of athletic performance while also having fun and supporting his teammates and fellow competitors.