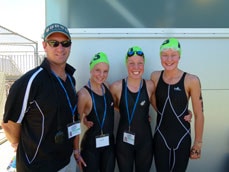 As an age grouper Alex competed in a variety of sporting disciplines including Swimming, Life Saving, Biathlon, Triathlon, Cycling, Rugby, Cricket and Tennis. Highlights included winning the High Point Award at Lifesaving Nationals and medalling at National swimming champs in the 100 Fly. Main racing events included the 400 & 1500 Free and 400 IM. Back in his home country Alex coached for numerous swimming clubs. His coaching career now spans over 20 years and this includes running Learn to Swim and competitive club programs. In addition Alex coached the Provincial/State Multi Class Team for two years and took them to Nationals at age 22 before leaving the country and moving to the Cayman Islands.
In Cayman Alex coaches for the government as an assistant coach to Dominic Ross in a program developed by David Kelsheimer (US head coach at PanPacs – Open Water). Coaching in Cayman offered the opportunity to travel around the USA, Caribbean and Canada to various levels of competitions and allowed frequent access to top class coaches such as Richard Shoulberg.

From Cayman Alex moved to Australia where he coaches under the direction of David Kelsheimer before taking on the Head Coaching position on the Mornington Peninsula. This lead to the start of the Peninsula Sports Academy, which has now become the top swimming coaching service provider on the Peninsula.

PSA under the directorship of Alex provides Coach and Teacher development and education, coaching services to swim clubs, lifesaving clubs and schools. In the past 7 years under Alex's direction the program has developed 26 National Age Qualifiers in Australia and 5 National Open Qualifiers. In addition Alex's programs have developed well over 150 State Qualifiers and have placed swimmers on Swimming Victoria Development squads each year for the past 5 years.

Alex holds a Silver Australian coaching licence as well as a Level 5 International Coaching Certificate from the American Swimming Coaches Association. Coaching experience includes coaching the Cayman Junior National Team and traveling to the World SC Champs in Manchester in 2008 with the Cayman Senior National Team as well as taking swimmers to a number of other international camps and meets around North America. Alex has also coached at the Australian Institute of Sports with the Multi Class Road to Rio squad as well as running camps for Swimming Victoria as the Head Coach of the Distance Squad in 2012/2013 and as a coach on the Silver Squad in 2013- 2015.
Recent Workouts by Coach Alex
Support Coach Alex
Choose a premium membership and benefit from 20% off any subscription (individual or team) by using the coupon code "psa" during registration.