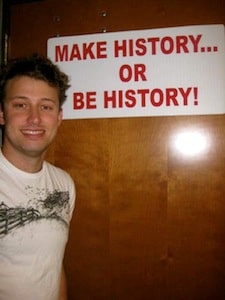 Pieter Ritz enters his first season with FGCU as a volunteer assistant coach in 2014-15. Ritz joins the Green and Blue after serving as the graduate assistant coach at Henderson State University in Arkadelphia, Ark.
During his two years with the Reddies, Ritz acted as the team's recruiting coordinator, in addition to creating the strength program and designing workouts for all swim groups.
During his first year at Henderson State, the program sent five student-athletes to the NCAA Division II Swimming and Diving National Championships, and one the following year.
This past season, Ritz received the Jean Freeman Scholarship Award from the College Swimming Coaches Association of America (CSCAA). The award is given annually to a male and a female assistant coach in each NCAA division whose exceptional contributions brought recognition to their college or university, and whose leadership, integrity, honesty, competitive attitude and personal graciousness epitomizes those characteristics reflected by longtime University of Minnesota coach Jean Freeman.
This bio was taken from the FGCU website. You can read more about Coach Ritz on the FGCU website.