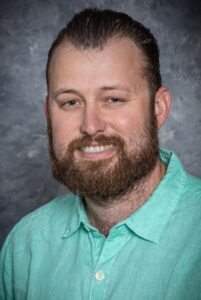 Cleveland State head men's and women's swimming & diving coach Hannah Burandt announced the hiring of Pieter Ritz, a CSU alum, as an assistant coach in August 2019. Ritz helped the Vikings to numerous successes in his first season at the helm. He helped both the men's and women's programs to runner-up showings at the 2020 Horizon League Championships.
Ritz, who brought seven years of collegiate coaching experience back to CSU, returned to his alma mater as he swam for the Vikings from 2008-12. Ritz was a four-year letterwinner for the Vikings, where he earned the swimming program's Leadership Award in his senior season.
Ritz's most recent coaching stint saw him spend four seasons as an assistant coach and the recruiting coordinator at the University of Cincinnati, playing a significant role in helping turn around the fortunes of both the men's and women's programs. Ritz served as the site director for the USA Central Zone Swimming Select Camp and also led the organization and planning of the Cincinnati Swim Camps.

Prior to Cincinnati, Ritz spent one season as the volunteer assistant coach at Florida Gulf Coast University. Ritz began his coaching career as a graduate assistant coach at Henderson State University where he oversaw recruiting and managed the scholarship budget.
A native of Fort Myers, Fla., Ritz graduated from Cleveland State with a Bachelor of Arts degree in 2012. He proceeded to earn a Master of Science degree in sports administration from Henderson State in 2014.
This bio was taken from the Cleveland State athletics website where you can read Coach Ritz's complete bio.
---
Support Coach Ritz with a premium membership. Use the coupon "vikings" during your registration and you will also get 20% off any subscription plan.