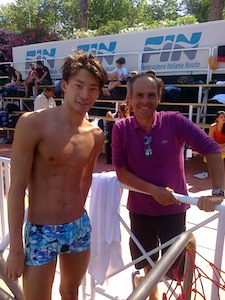 Coach Rosario Castellano was born in Naples in 1968 and swam until almost 30 years of age, competing at the Italian Youth Championships swimming the 400 meters and 1500 meters freestyles. He then continued with Open Water swimming participating in three editions of the European Championships swimming the 25km and a World Cup. Coach Castellano also participated in seven editions of the Maratona del Golfo Capri-Napoli, famous all over the world over a distance of 33km in 1990.
As a coach, he had swimmers participate in various editions of the Italian Youth and Senior Championships.
---
Support Coach Castellano with a premium membership. Use the coupon "SpecialTeam" during your registration and you will also get 20% off any subscription plan.