Arrowhead Swimming has been a major staple in the development of national level superstars in Hartland, Wisconsin.
There have been countless state champion banners hung throughout its time as a program on both the boys and girls' teams. Years of tradition, success, and hard work have made both the high school and club program top tier. The facility dates back to the 1970's and has seen little change for improvement ever since. AHS is looking to add state of the art starting blocks with wedges, to give the athletes that train at Arrowhead every advantage to emulate big meet racing with modern equipment. The current blocks are outdated, rusting, and losing their structural integrity.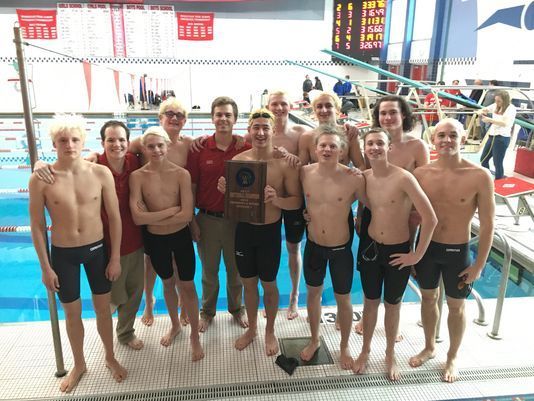 Should AHS achieve their fundraising goal, they have additional stretch goals to aim for. The program has been using worn equipment for years and they're looking to elevate and support the athletes with better training opportunities. In addition to the blocks, AHS aims to improve other training aspects. If they do not achieve their goal of raising for the new blocks, all funds will go directly to AHS Swimming for their equipment, suit and travel budget.
AHS Boys' Swimming Coach, Kevin Ewald, is a product of the program's success. Both he and his brother Eric were on state championship winning teams in different eras. Dreamfuel CEO Emily White is also an AHS Swimming alum. Kevin and Emily know what an impact swimming for Arrowhead has had on their lives and careers. They now want that for others with Kevin taking on the role of Head Coach for the Arrowhead Swimming boys' program.
---
We are proud to support swimming related Dreamfuel campaigns with a $100 donation each and want to thank all of our premium members who make this possible!
---
About Dreamfuel
Dreamfuel is the premier high-level crowd-funding platform specifically designed by and for athletes. They work with each athlete or athletic organization to tap into the community that surrounds them, thereby engaging new fans and supporters along the way.
There is an assumption that all Olympians, Olympic hopefuls and elite athletes have sponsors. This is far from the case, as 85% of Olympic hopefuls' income is less than 15k USD / year. Dreamfuel's goal is to provide athletes with a new revenue stream to support their incredible efforts outside of or in addition to the traditional means of sponsorships and governing body stipends.