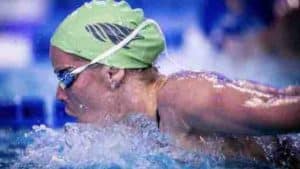 Leah is training for Olympic Trials next summer (2024) with the goal of making the US Olympic Team. As you can imagine, with a goal this big, also comes a lot of financial burdens. She usually attends roughly 1 swim meet a month. Most swim meets cost over $1,000 to attend (airfare, hotel, rental car, food, meet entries).
Training towards her dream is a full time job and Leah absolutely loves it! But, it has added financial stresses in her life.
The above text was taken and adapted from the "Help me throughout my journey to Olympic Trials!" GoFundMe campaign. Please visit the page for more detailed information and donate to the cause.
PSW was able to make a $200 donation to help with Leah's training and support her dream to make the Olympic Team. Thanks to all of our premium members who make this possible!